iTunes aktuell Probleme mit Geschenkkarten und Click&Buy
Aus aktuellem anlasse – z.Z. kann ich keine Apps kaufen, da iTunes oder Click&Buy gerade ein Technisches Problem hat – eines der Nervigen Sorte. Da ich keine Kredit Karte habe, bezahle ich eigentlich nur mit Click&Buy – Praktisch schnell und sauber.
Da ich als Geschenk zu Weihnachten ein paar iTunes Karten bekommen hatte, habe ich die erstmal aufgebraucht bis auf den tollen betrag von 1,46 EUR und genau die werden mir zum Verhängnis. Anders als bei Kredit Karten geht eine Split-buchung nicht – also wenn der betrag das Guthaben überschreitet, geht der Rest von der Kredit Karte – Wenn ich Aktuell eine App kaufen möchte, kommt der hinwies das eine Click&Buy Transaktion nicht möglich ist.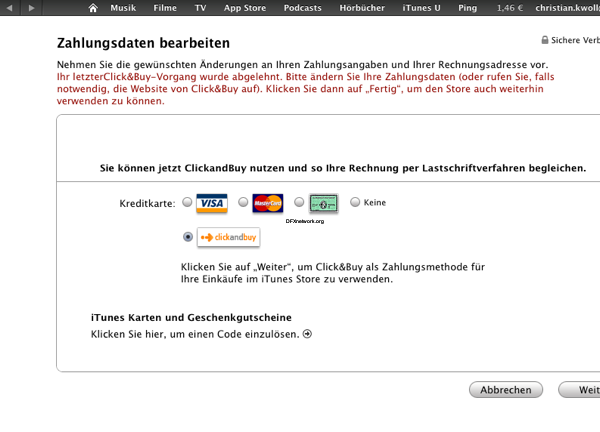 DIe suche hat gedauert – aber Google und der iTunes Support – der wieder super gearbeitet hat – kamen wir dann auf die Spur und Apple hat es bestätigt – leider nicht gelöst, man arbeitet dran.
Aus dem E-Mail verkehr mit Apple:
According to his advise, it shows that you have a store credit on your iTunes Store account and iTunes cannot charge Click and Buy for the remainder ( amount ) if you buy an item due to scheduled maintenance. Customers using Click and buy will be unable to use it as a payment method during this maintenance. Additionally, ClickandBuy cannot be added to an account or used to create an account during this time period.
Apple is currently working toward a resolution for the issue you have reported. You will receive an email after the matter has been investigated and further information is available.
Ist doch schonmal was – mal schauen wie lange die Lösung dauert. Ich glaube dafür können beide nichts, tippe auf ein Problem mit der Rechnungsübergabe – Apple erstellt eine über den ganzen betrag, übergibt an den Dienstleister nur die Order den Rest einzuziehen und bei denen streikt dann die Software – nachvollziehbar aber nervig 😉 .
Bis dahin werden es wohl dann doch noch ein bis zwei Geschenk Karten werden und vielleicht schaffe ich ja den betrag auf null zu bekommen.